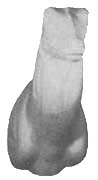 AXIS DEER FORM and other TAXIDERMY FORMS and SUPPLIES at

                              A Taxidermy Supply House on the Grow!

For FAST orders-Phone/Fax 1-252-527-8722 or TOLL FREE 1-888-527-8722

Description        Cat.No.    Size & Position         PRICE

Axis Deer Form    AX1       5 1/2 x 17 straight     $34.95

Quality Taxidermy Supply Taxidermists' Supplies & Services

     2186 Southwood Road Kinston, North Carolina 28501

            Feel free to print out for a personal price list.

    CHARGE BY PHONE!  TOLL  FREE!  1-888-527-8722