WHITETAIL DEER FAWN NOSE TAXIDERMY                 REFERENCE PHOTO SAMPLE

   A Taxidermy Supply House on the Grow!

For FAST orders-Phone/Fax 1-252-527-8722 or

               TOLL FREE 1-888-527-8722

     Photo sample used with permission from:

     WHITETAIL DESIGNER SYSTEMS, INC.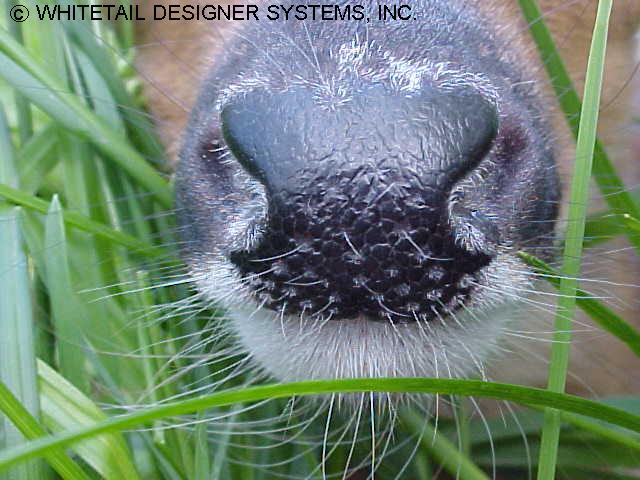 This whitetail deer fawn nose photo shows how effective, and efficient a taxidermy reference tool a computer, along  with modern digital equipment, can be.

The photo may be a little slow to download, depending on your connection speed, because it is the same size as it comes on the reference disks.  It, as with all the WTDS Taxidermy Reference Photos, can be printed out at 8" x 10 1/2".  Viewing photos right off the disk, or sending photos into their own file on hard drive are a couple more options.  It is really hard to beat the "view" on a computer monitor.

A huge factor in the quality of the print that you make off your personal printer, will be the quality of the photo paper you use.  Higher quality paper yields higher quality prints.

You don't even have to be some kind of computer whizz to take advantage of digital photos.  These days, it would be hard to find a photo department  that isn't set up to print digital photos, not only that, but darn near every house has a computer and printer set up.  You can probably get a friend to print for you, or to teach you the ropes.

To put things in perspective, take a Lincoln head penny out of your pocket and place it over the nose pad of the fawn nose in the photo.  This is a photo of a 3 day old fawn's nose, at that age the penny will completely cover, and hide, the nose pad.  Truly amazing, isn't it?

Quality Taxidermy Supply carries the entire line of WHITETAIL DESIGNER SYSTEMS Taxidermy Reference Photos on floppy disk in stock.

                                       This photo is from this reference disk: 

                                       Whitetail fawn (small) close-up details 

                                 17 reference photos   stk. # wtds pr 21 $9.95

               Quality Taxidermy Supply Company

                 Taxidermists' Supplies & Services

    Owned and Operated by Terry & Tammy Lipscomb

2186 Southwood Road     Kinston, North Carolina 28501

          Feel free to print out for a personal price list.

    CHARGE BY PHONE! TOLL FREE! 1-888-527-8722